Once in a while when you're travelling you come across a place you could happily call your home. For me I found this with Austria.
The country is full of beautiful lakes containing crystal clear water. This makes them a prime attraction for tourists and they are surrounded with cultured Austrian towns, cute bars and restaurants on the waterside. Being a lover of water myself I just travelled from lake to lake on my way through Austria. Albeit, they can get very busy, however you can always find yourself some beautiful spots just for yourself. Like at the Traunsee Lake where I had a 'bath' next to a willow tree. Or at Haltsee lake where I witnessed a family go skinny dipping whilst the dad took photos of his 20-year-old daughters boobs (before you ask no, I did not take photos).
The lakes are also perfect for water sports of different kinds: paddle boarding, kite surfing, kayaking and fishing. For me it's inspired me to try kite surfing at some point, imagine kite surfing here:
Looking for your own travel inspiration?
Austrian Culture:
The culture of Austria is another thing which I love about the country, many walk around in Austrian outfits without a need for an occasion; the men wear the typical lederhosen outfit and women wear dirndl dresses. Every body is very friendly and welcoming, they actually want to talk to the tourists and find out why you are here (even if it's 3 drunk teenage boys who think they get laid by asking if they can fuck you over and over again). The beer is also incredible (might explain why there was so many drunk kids everywhere) and sitting next to a lake with a pint of Austrian's finest is a good way to pass the time…
When you walk through the little villages and towns their culture thrives all around you rooted wishing farming, ceramics, religion and mining this can be seen in the beauty of the houses and streets. You will often come across random religious statues and ornaments in the street showing Jesus on the cross. realistically recreated with intestines popping out of where a long would be on the sculpture. The houses are well-kept and you can see that the owners take pride in their houses.
On a weekend their culture thrives even more. Saturday and Sunday sees them set up market stalls and sell their traditional pastries and pretzels. Which I was more than happy to have a little taste test of and yes they are incredible! The pretzel van impressed me the most looking rather holy with the sun behind me, I felt like god was telling me to have a pretzel so of course I obliged…
Sunsets in Austria:
One more thing which I love about Austria is watching the sunset over the lakes and mountains and the beautiful views. I will just let you check the picture out so see why, no need to ramble on!
Want to see more Austria sunset photos? Check out our instragram.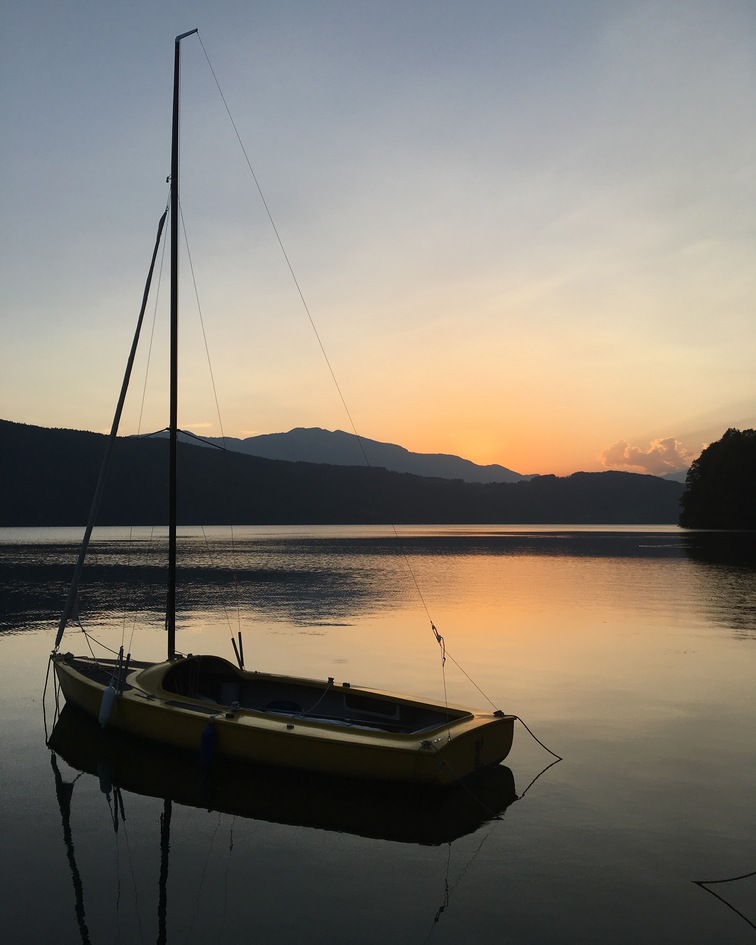 When I started writing my love story of Austria it grew, as I travelled I found more parts of Austria that I fell in love with bit by bit. So my love story escalated from wanting to revisit a few lakes to know wanting to explore the whole country, I may be a romantic at heart, who knows? Although I do happen to fall in love with every country I go to and leave, most of the time, with the decision that I could totally live there. For me, Austria it is out doing all countries I've visited so far! Taking some big guns out in the process including: Norway, Denmark, Sweden and Holland! Lets see how Slovenia and Croatia do…
Sign up now to be the first to read my next blog post: 'The 5 Best Lakes In Austria And Why You Should Visit Them'
Author Details
Founder and creator of The Adventure Diary, I have extensively travelled Europe over the last 3 years. Having started as a part-time travel blogger I am now in the position where my blog is my career. Travelling, adventuring and exploring new places in the world is my main passion. For me sharing my passion for travel with others and having the platform to do that through my blog is very important.