A large part of the cruise experience for many people is not the all you can eat buffet or the exotic ports of call but the evening entertainment. The entertainment you will get onboard the best cruise ships in the world rivals any nocturnal entertainment anywhere. Casinos, cabarets, theatre productions, acrobatic and circus shows, the list is almost endless. In fact, many people choose their cruise on the basis of the evening entertainment available.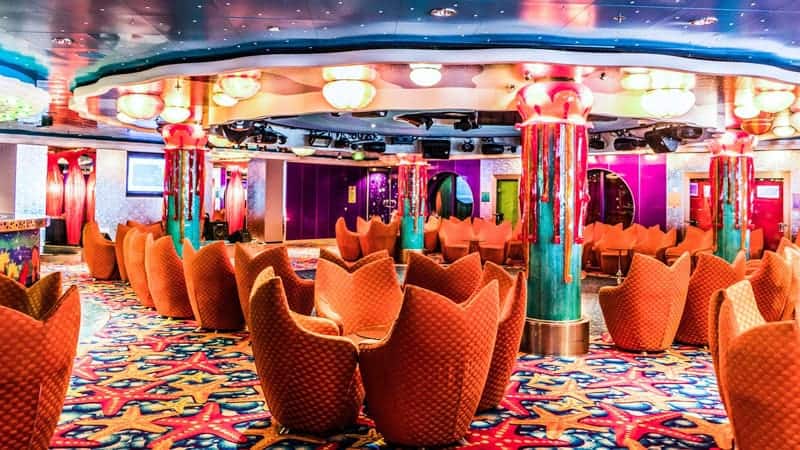 Of all the cruise lines that ply the seven seas, Royal Caribbean cruises are generally known to have the most diverse range of evening entertainment. A simple Google search will tell you all you need to know about their fabled entertainment programs and why they are quite rightly regarded as the kings of the cruise ship entertainment sector.
Types Of Evening Entertainment You Can Expect On A Cruise Ship
There are literally dozens of evening entertainment options onboard a cruise with more being added all the time. Please see below for a small selection of activities that are more or less present on every cruise ship.
Nightclub – The ship's nightclub is a firm favourite of both the young and young at heart cruisers who can boogie the night away until the early hours. Being a cruise ship, they are not bound by local licensing laws and theoretically can keep the music pumping and the drinks flowing until the Captain brings proceedings to a halt. It's worth bearing in mind that a ship has its own very strict laws regarding behaviour so by all means, have a good time but keep it real!
Casino – Most large cruise ships have a casino facility or run casino nights where you can have a flutter on the game of your choice. Only spend what you can afford to lose – losing the majority of your cruise spending money at the Craps tables on your first night is certainly not recommended!
Evening Film Showings – Many cruise ships have a dedicated area where you can watch the latest releases on the big screen – simply look at the showings in advance, pick your film and away you go!
Cabaret and Comedy – Cruise lines put on a number of shows to appeal to people of all ages. It should be noted that some of the themes and material may be only suitable for adults. This will be clearly stated in onboard publicity.
Late Night Suppers – The ever-popular midnight feast for hungry cruisers is as popular now as it has always been and while not strictly termed as an 'activity' or 'entertainment', it certainly attracts the crowds!
Socializing – Another activity that is very underrated is speaking to your fellow passengers! Don't be afraid to strike up a conversation on the sun deck or the bar – you might make a friend for life!
If you are thinking about booking a cruise holiday and evening entertainment is important to you, be sure to do your research before you book. Good cruise deal sites will give you the name of the ship and the dates so you can independently research whether they have nocturnal events that you like.
If you would like to feature on The Adventure Diary, learn how you can work with us.
Author Details
Founder and creator of The Adventure Diary, I have extensively travelled Europe over the last 3 years. Having started as a part-time travel blogger I am now in the position where my blog is my career. Travelling, adventuring and exploring new places in the world is my main passion. For me sharing my passion for travel with others and having the platform to do that through my blog is very important.